Us
Music for You...
Links
...a male & female point of view...We are two former coworkers who share similar ideas on what's absurd...or just plain funny...thought we could offer a unique view on life & stuff...
Monday, November 21, 2005
How Are You?
Happy Monday to you all. My weekend started out with a cold hitting me hard right on top of my head. Bang. I felt like Ass (I stole that from a fellow Blogger...don't remember who...but it's a perfect way to describe the way I was feeling...so...thanks). I felt stuffy, achy & moopy...so...what did I do? I drugged myself up & carried on. From then on...I felt loopy & oddly aroused...go figure (I know...you want to know what I took that could turn snot into desire...don't ask me...'cuz it must have been a fluke).
I should have stayed in bed on Saturday, but I couldn't or wouldn't (you choose...either one works here). I showered, felt a little better, then went off to the afternoon reception for my friend F. It took me about an hour to get to the gallery...then it was a 10 minute walk from my car to the door. I was still loopy (more drugs...how else can you fight a cold?), so I took a somewhat zig zaggy route to actually get to the door. You just never know what to expect at one of these things. First of all...the gallery was lovely. It was housed in an historic site (one of my pet causes...in case you care)...in a great big old barn that now serves as a gallery. The space was open & flooded with light. I walked through the door & somehow found myself holding a glass of champagne & mingling. The place was crowded & buzzing. I found F's husband & rudely interrupted the conversation he was having with a well dressed man (when I'm drugged I become quite the interrupter). I deposited some germs on his cheek & said hello. I kept it short & sweet so as not to embarrass myself further...but really...did I care?
I swooped around the room. I love how most galleries hang things in perfect alignment...right at eye level...in a sort of ring around the room...I tried hanging some of my photography in my living room in that sort of style...& it just looks boring...but hey...I get an A for effort, right? Anyway, F's drawings were beautiful. The delicate lines & soft colors made me see exactly what she was feeling when she created them...they also had a soft, vibrant energy to them that made me smile. (was that pretentious & arty sounding?...if it was...my job here is done).
I finally made eye contact with F. She was surrounded by people & holding bouquets of flowers in her hands. This is the kind of sweet soul that she is. She handed the flowers to someone, excused herself from the group & came over to me &double kissed (European style...she's from France & other exotic places) me & hugged me American style.
I know it made her so happy that I came to see her show. I wanted to buy a drawing...but I knew she'd give it to me instead...so I didn't. I left & sloughed my way back home.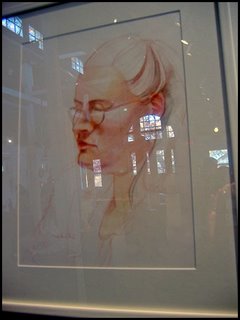 My photo does not do justice to how beautiful F's work is...you can see the gallery in the reflection...aren't the windows lovely? This post is kind of long...so I might be done now...